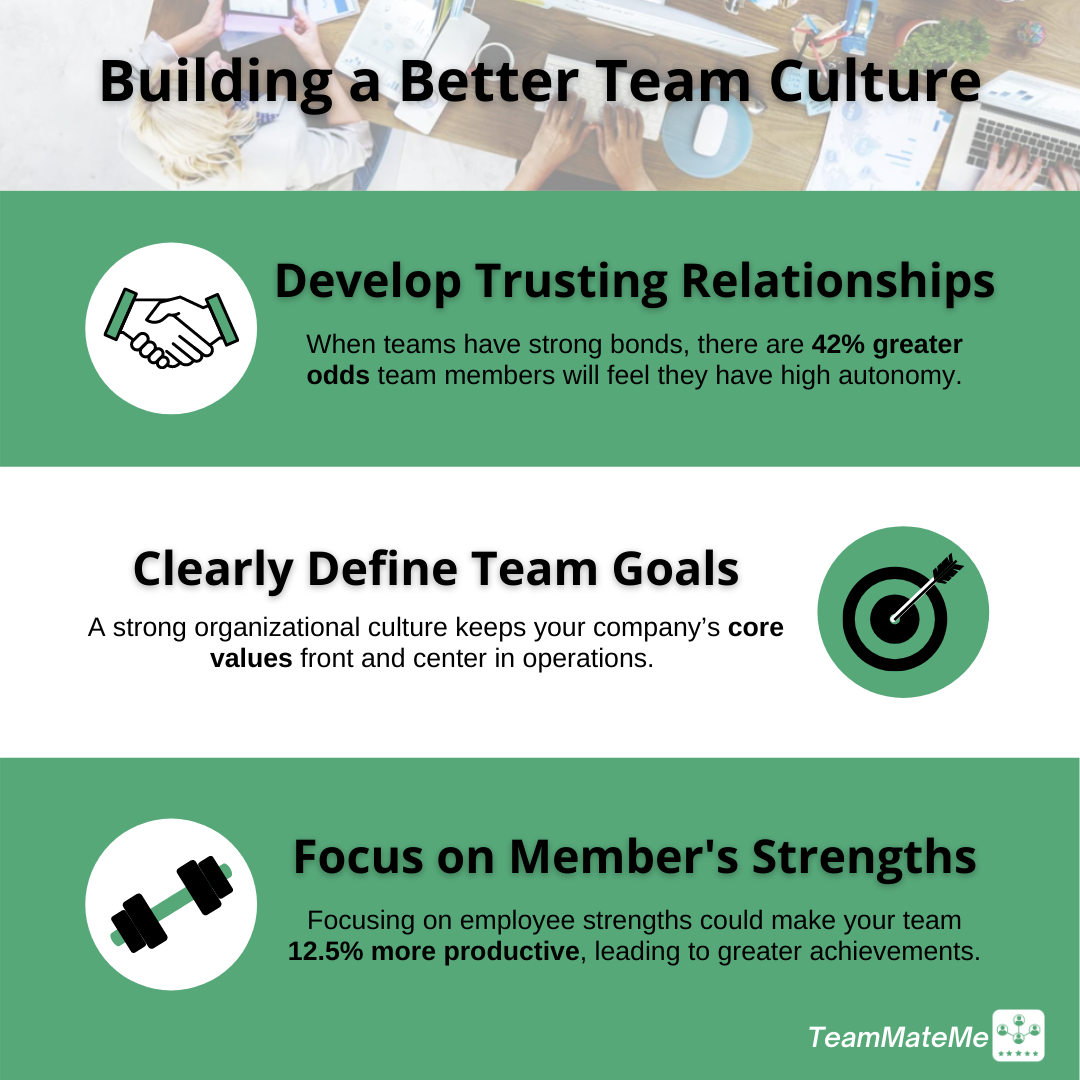 According to Open Sourced Workplace, team culture is the way a set of people behave and think which originates from the attitudes and belief systems they share. These shared beliefs & attitudes empower and propel teams towards collaboratively achieving their goals and objectives. Building a great team culture is crucial to a team's success because team culture is not just something you can buy, train, or teach; it is cultivated with collective time and effort. When individuals align with a strong team culture, they are happier, more likely to commit long term, be more productive & more engaged within the team. We are going to examine ways to develop a productive, supportive & connected team culture that could drive any team to great success & synergy.
1. Clearly Define Your Team's Goals
Start with your team's purpose. What is your "why"? What is your mission? Eat, sleep & breathe purposely with your mission in mind. Ensure your goals are clearly defined & that your mission is carried out in everything you do. A clear, shared mission gives team members an enhanced sense of purpose & direction towards a greater purpose  than themselves or even their paychecks. According to Corey Moseley, an author on company culture, "strong organizational culture keeps core values front and center in all aspects of its operations and organizational structure" (Jostle). Which encourages teammates to connect, collaborate & focus on their shared purpose.
Need help finding your "why"? Pick up Start with Why by Simon Sinek for plenty of inspirations.
2. Foster Trusting Relationships
When teammates feel connected, aligned & supported by their team, a collaborative culture will thrive. Fostering trusting relationships will also allow the leaders to better understand each teammate's strengths & weaknesses, which could open up new opportunities for the team. According to Michelle Burke, CEO of The Energy Catalyst Group, focusing on the team's strengths could make your team 12.5% more productive" (Burke, M.). "When teams have strong bonds with one another and their leader, there is 42% greater odds team members will feel they have high autonomy" (O.C. Tanner). A Higher sense of autonomy allows teammates to feel confident & comfortable to create, innovate & bring their unique perspective to every matter.
Pro Tip: Get your team together as frequently as possible to ensure your responsibilities are clearly defined & understood & so each of you have a chance to hear about all of the great work your teammates are doing. Consistent meetings will build rapport between members, encourage productivity, and prioritize the importance of improving the team.
3. Encourage Learning & Skill Development
Team members should be encouraged to learn, grow & enhance their skill sets, both for their own development and for the team's success. This type of team culture will not only allow members to feel empowered by their organization but will enhance the organization's success. As a Bersin report pointed out, "the single biggest driver of business impact is the strength of an organization's learning culture" (Grossman, R.). Goal-oriented learning supports innovation, organization growth & employee retention. In a recent Linkedin Learning report, researchers found that "94% of employees said investment in training and development is one of the major reasons they would decide to stay in a role for longer" (Linkedin).
If you are looking to dig deeper into workplace culture, take a dive into the Global Culture Report  to learn about current trends, statistics & how employees feel about their workplace cultures. Their experiences may just shape your own team's culture!
As always,  TeamMateMe is here to help you build successful teams, do not hesitate to reach out if you need any guidance in doing so.